Beer, Sports & Good Eats
menu
Sturgeon Bay, WI
Door County Fire Co.
Door County Fire Co. was an operating firehouse in Sturgeon Bay, WI that dates back to 1907-2006. Now converted to a full service restaurant, sports bar and banquet facility, we serve lunch and dinner with a wide selection of menu items, including your favorite appetizers, fresh salads & soups, charbroiled burgers, wraps, sandwiches, homemade pizzas, hearty meals and weekend specials!
Door County Fire Co.
Daily Specials
We are unable to offer substitutions on our Weekly Features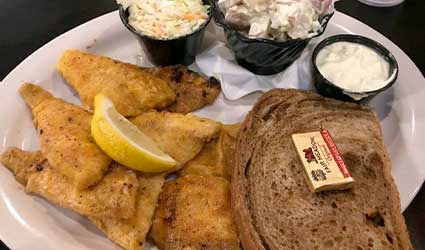 Served with choice of potato, rye bread, coleslaw, lemon, and house-made tartar sauce.
Perch Plate 22.00 | Walleye Plate 20.00 | Haddock Plate 19.00 | DC Fry 21.00
Served after 4pm - Deep-Fried, Pan-Fried or Spice it Up with our Pan-Fried Cajun
Hand cut, dry rubbed and slow roasted, with our vegetable-of-the-day and your choice of potato. (Market Price
10oz Captain Cut or 14oz Chief Cut
Add soup or side salad 4
Served after 4pm
4 pieces, served with mashed potatoes, gravy, stuffing, choice of vegetable or mac & cheese, and a buttermilk biscuit 19.00
Served all day ~ in house only